How To Dress In NYSC Camp, PPA, CDS & POP [Approved & Unapproved]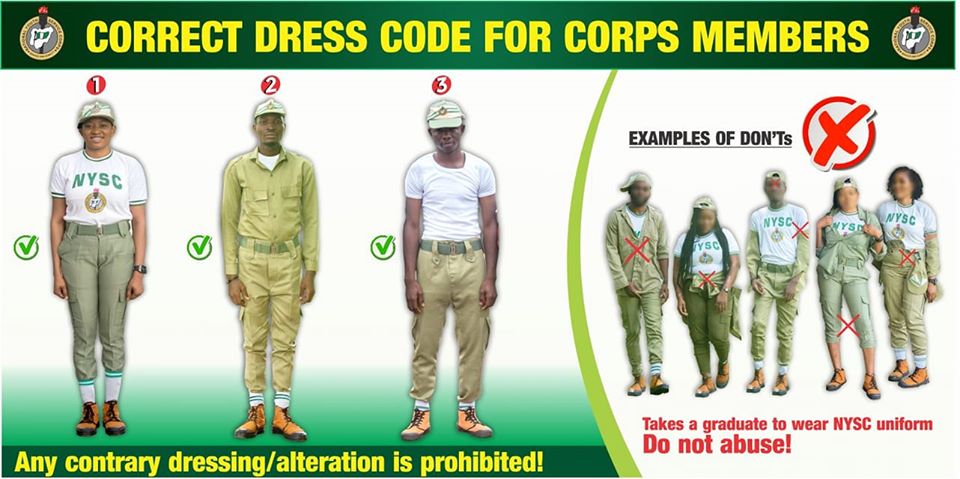 As a Nigerian graduate preparing to attend the National Youth Service Corps (NYSC) orientation camp, it is important to know how to dress appropriately. NYSC camp is a formal and structured environment, and the dressing code is strictly enforced. In this blog post, we will discuss how to dress in NYSC camp.
White T-shirt: The official NYSC uniform consists of a plain white T-shirt with short sleeves. This T-shirt must be worn on every morning for the morning drills, parades and exercises.
White Shorts: The official NYSC uniform also includes white shorts. The shorts must be knee-length, plain and not fitted. Avoid wearing shorts that are too tight, too short or too long.
Sneakers: Wearing appropriate footwear is essential in NYSC camp. You need to wear comfortable sneakers or trainers that are suitable for walking and running.
Socks: Socks must be worn at all times, except when sleeping. Pack enough socks to last you for the duration of the camping exercise.
Rubber Slippers: Rubber slippers or flip flops are essential for the bathroom and other wet areas. They are also convenient for wearing around the camp during your free time.
Jacket/Sweater: It can get quite cold in the early hours of the morning and late at night. It is advisable to bring a jacket or sweater to keep yourself warm.
Cap/Hat: The sun can be intense in Nigeria, and it is important to protect yourself from the sun's harmful rays. You need to wear a cap or hat to protect your head and face from the sun.
Waist Pouch: A waist pouch can be used to carry your phone, ID card and other small items. This is especially useful during the morning drills when you need to have your ID card and other items handy.
Wristwatch: You need to keep time and be punctual for all activities in the camp. A wristwatch can help you keep track of time.
Comfortable Clothes: You will need comfortable clothes such as shorts, t-shirts, and sportswear for your free time. Avoid wearing revealing clothes, ripped or torn clothes.
It is important to note that NYSC has strict rules on dressing in camp. You must wear the official uniform during morning drills, parades and exercises. In addition, you are not allowed to wear jewelry, earrings, necklaces, and bangles during these exercises. Also, you are not allowed to wear caps or hats during the morning drills and parades.
Dressing in NYSC camp requires adherence to strict rules and regulations. By following the dress code, you can ensure that you have a successful and enjoyable camping experience. Remember to pack appropriately, and always be mindful of the rules and regulations of the camp.
Approved NYSC Dress Code For All Activities
During this program, corps members are expected to serve their country in various ways, including through their primary place of assignment (PPA), weekly community development service (CDS) activities, and passing out parade (POP). As a corps member, it's important to dress appropriately for each of these occasions.
New NYSC Dress Code Rules
The new NYSC dress code rules are as follows;
No Corps member is allowed to shape his/her khaki to slim fit, crop tops or three-quarter shorts.
The hijab isn't part of the kits given out to Corps members by the NYSC, therefore will not be tolerated.
The use of skirts/or gowns by Corps members during camping is not acceptable.
Approved NYSC Dress Code For All Activities
The complete NYSC kits
The NYSC kits consist of the following:
Khaki trousers and shirt;
Crested vest;
White round neck T-shirt;
White shorts;
A pair of zebra – striped socks;
A pair of jungle boots;
A pair of canvas;
Belt and face cap.
The approved dress code within the NYSC orientation camp is as follows;
NYSC Orientation Camp Dress Code
Regular camp wear: Immediately you've done your registration at orientation camp and you are expected to change your mufti to the official camp wear, that of course if you have been given the wears.
The approved dress code at the NYSC orientation camp is white t-shirt (round neck), white short, white socks and white canvas. You must always be your NYSC state tag all time with a card holder around your neck. The NYSC cap is also required to be worn every time and is to be worn facing front. You must worn the cap everywhere you go, be it parade grounds, camp market, kitchen, to your duty post and even your room.
NYSC Swearing In Ceremony Dress Code: The swearing in ceremony is normally held on the third day at the camp. The dress code is 6/7, meaning you are expected to wear 6 out of 7 complete NYSC uniform and they are as follows:
NYSC cap
NYSC crested vest
NYSC belt
NYSC khaki trouser
NYSC sock
The jungle boot
The last (seventh) wear is the khaki shirt but it is not needed.
NYSC Man-O-War Ground Dress Code: For the Man-O-War parade day, you are required to wear your full NYSC kits, that is seven-over-seven (7/7) kits. And this is also the only official time you can wear NYSC cap facing backwards.
Social Activities In Camp: There are several social activities in the camp where corps members can compete with for a prize. The social activities are organized by the NYSC officials. Some of these activities may require you to make use of foreign or local attires.
If you are participating in any of these activities, you can apply to the camp director through the platoon inspector to get the attires outside of the camp. These days are free for those participating. However, carnival night is where every corp member can put on anything foreign attire of their choice as dictated by their platoon heads.
NYSC Religious Wears In Camp: Before now, corps members are allowed to wear mufti to religious gathering in the camp. How the new now is to wear any of the NYSC camp dressing. However, the Muslim sisters are allowed to use a shoulder level (white) hijab. The hijab is not part of the NYSC kits, meaning that they are allowed to bring it to the camp.
NYSC CDS Dress Code
NYSC CDS (Community Development Service) is a mandatory program held once a week at NYSC Secretariat. During this program, corps members are expected to work in groups to develop and improve their host community through various projects such as environmental sanitation, healthcare services, and education programs.
This is another official day for corp members. They are leaving camp to their various place of primary assignment (PPA).
Dress in your NYSC uniform: As a corps member, you are required to wear your NYSC uniform during CDS activities. The best dress code is 6/7 but instead of the crested vest, you can wear a white t-shirt and khaki trousers or skirt, and a pair of jungle boots. You can also wear your NYSC cap and jacket during colder months.
NYSC Passing Out Of Camp Day (POP) Dress Code
The National Youth Service Corps (NYSC) Passing Out Parade (POP) is a significant milestone in the life of every corps member. It is a time to celebrate the successful completion of the mandatory one-year national service program in Nigeria. As a corps member, it is essential to dress appropriately for this occasion to make a lasting impression on your family, friends, and colleagues. Their complete dress code is 6/7.
Wear your NYSC kit: The NYSC kit comprises a white shirt, white shorts or trousers, white socks, and white sneakers. It is important to wear your NYSC kit to the POP as it is a symbol of your service year, and it is expected that every corps member wears it. Make sure your NYSC kit is clean, ironed, and fits you well.
NYSC Place Of Primary Assignment (PPA) Dress Code
Your primary place of assignment (PPA) is where you will be serving for the majority of your NYSC program. Therefore, it's important to dress appropriately for your workplace. In most cases, you will be required to wear formal or business attire. This means wearing a well-ironed shirt or blouse, paired with trousers or a skirt. Avoid wearing revealing or tight-fitting clothing, as this may not be appropriate for the workplace. If you're unsure of what to wear, it's always better to err on the side of caution and dress more conservatively.
In addition to your clothing, it's important to pay attention to your grooming. Make sure your hair is neatly styled, and avoid wearing excessive makeup or jewelry. Your shoes should be clean and polished, and it's recommended to wear closed-toe shoes for safety reasons. Also, make sure your nails are neatly trimmed and avoid wearing bright or distracting nail polish colors. However, no PPA frown at the NYSC uniform.
The SAED Programme Dress Code
Even after leaving the camp, you are expected to continue participating in the Skill Acquisitions and Entrepreneurship Development (SAED) programme. But there is no dress code for it. However, it is a good idea to always go there with any means of identification as a corps member. So, you can put on NYSC cap, and above all, don't forget to carry your NYSC identity card.