Is Hijab Allowed In NYSC Camp? A Closer Look at the NYSC Dress Code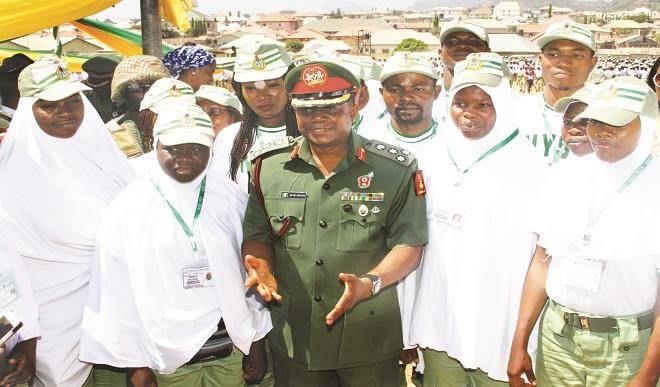 The National Youth Service Corps (NYSC) has always been a significant rite of passage for Nigerian graduates, bridging the gap between the academic world and the world of responsibilities.
One of the aspects that have sparked discussions and debates over the years is the dress code enforced within the NYSC camp.
Recently, the NYSC made headlines by addressing an important aspect of the dress code that impacts Muslim female corps members – the use of hijabs.
The NYSC clarified its stance on the use of hijabs by female corps members. According to a statement release by the NYSC officials in Abuja, female corps members who are Muslims are permitted to wear white, shoulder-length hijabs for religious purposes during their service year.
This clarification comes as a response to concerns and questions raised about the appropriateness of wearing hijabs within the NYSC camp.
To provide context, the NYSC has a specific dress code that varies depending on the occasion. The document categorizes the modes of dressing into three categories, each designated for different situations.
Firstly, during the orientation program within the camp, the standard attire consists of a pair of white shorts, a white vest, white canvas shoes, and socks.
Secondly, for ceremonial purposes, corps members are required to wear a crested vest over a pair of Khaki trousers, jungle boots, socks (with the trousers folded inside the socks), and a matching belt and Fez cap.
Thirdly, for activities related to the Man O'War and Community Development Service programs, corps members should appear in a jacket and trousers, a plain white vest, jungle boots, a Fez cap, and a customized belt to match.
While these dress codes are well-defined, the issue of hijabs wasn't explicitly addressed until this recent document.
The NYSC management clarified that it does not issue hijabs as part of its uniform. However, recognizing the importance of religious freedom and diversity, the NYSC allows female Muslim corps members to use a white hijab that drops at shoulder level for religious purposes.
This clarification aims to strike a balance between adhering to the standard dress code and respecting the religious beliefs and practices of corps members.
It reflects the NYSC's commitment to inclusivity and diversity within its ranks, acknowledging the multicultural and multi-religious nature of Nigeria.
Frequently Asked Questions about NYSC Dress Code
What is the color of NYSC uniform?
Members of the National Youth Service Corps NYSC are known to occasionally modify their khaki uniforms into more fashionable designs and rock them outdoors.
What shoes are allowed in NYSC camp?
The tennis shoe is a brilliant white colored shoe that is ideal for wear to any sporting occassion and is also the recommended footwear for the National youth service corps (NYSC) camping programme.
What clothes to take to NYSC camp?
Your Khaki trouser and jacket, white canvas shoe, jungle booth, and NYSC customized cap. However, you could buy some of them before coming, especially plain white shirts, shorts and trousers, white canvas, in case you need to change clothes at any time and your NYSC attire did not come in handy.
Conclusion
In conclusion, the question of whether hijabs are allowed in the NYSC camp has received a clear answer from the NYSC management. Female Muslim corps members are permitted to wear white, shoulder-length hijabs for religious purposes during their service year.
This decision underlines the importance of accommodating the religious practices of all corps members while maintaining a consistent and appropriate dress code for various NYSC activities. It's a step towards ensuring that every young Nigerian can participate in the NYSC program without compromising their faith or identity.