Difference Between NYSC Revalidation & NYSC Remobilization | How to Apply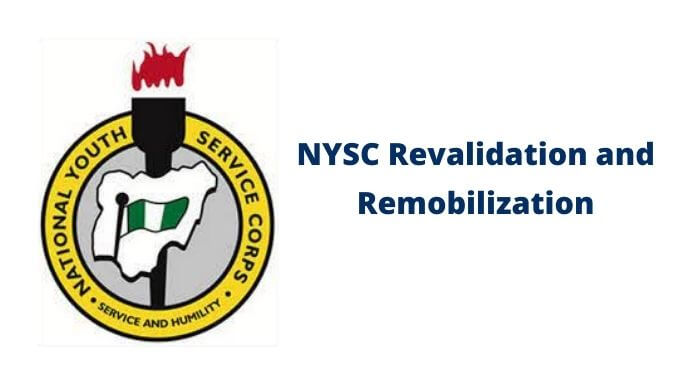 NYSC revalidation and remobilization, what is the relationship between the two? Prospective and serving corps members have been asking the same question, what is the difference between NYSC revalidation and remobilization? Let's take a moment to clarify a few things.
NYSC revalidation and remobilization exercise comes in every batch and streams. Read this carefully to the end so you can learn the differences between the two and step by step on how to revalidate or remobilize for either NYSC Batch A, B or C for 1 or 2 registration.
Difference Between NYSC Revalidation and NYSC Remobilization
NYSC Revalidation
This happens you registered for mobilization and you are deployed to a state in Nigeria for service, but due to one reason or the other, you are unable to go to the NYSC orientation camp.
For the reason best known to you, without having to explain yourself to the NYSC official or being sanctioned, you are allowed to defer your service.
If by the next stream or batch mobilization, you are ready to ready to answer the clarion's call, that's what you call NYSC Revalidation.
How To Register For NYSC Revalidation
NYSC Revalidation is done by logging in to your dashboard without having to re-register afresh like you did when you were registering for mobilization, all you have to do is login to your NYSC dashboard and check if you have been deployed to an orientation camp in Nigeria.
It is safe to say that revalidation, starting from Batch A stream 1 of the 2021 mobilization, is AUTOMATIC. Yes, it is automatic, corpers who did not report to the orientation camp or deferred service will be mobilized automatically with the next stream or batch.
These continual postings will be done by NYSC with no action required from the affected corpers.
NYSC Remobilization
There are some people who will report to the orientation camp, take part in the early-on registration, but left the camp for a reason or without the permission of the NYSC officials, even with the permission, these set of people are subjected to remobilization.
Also there are some people did the registration and take part in the camp activities but are dismissed from the camp after being caught with santionable action, these will equally be subjected to remobilization.
Likewise, there are people who did registration at the camp, took part in all the camp activities, left the camp with other corpers but failed to report to their Place of Primary Assignment PPA, these will equally expected to enroll for the NYSC remobilization.
How To Register For NYSC Remobilization
In order to do NYSC remobilization, follow these steps:
Visit the NYSC mobilization portal and locate news/link for remobilization or via https://portal.nysc.org.ng/nysc3/RemobInterest.aspx
A form will open for you to provide the following information:
Previous Call-Up Numbers
Previous State Code
Previous Batch
Previous Deployment State
This information is enough to know why you are applying for remobilization. And of course, your application will go through approval process. Once it is approved, you will be eligible for remobilization.
For NYSC remobilization, apart from the aforementioned information, concerned married corpers members will be required to scan and upload the information documents:
Evidence of a state of residence of husband
Evidence of marriage
Identity of husband
Newspaper change of name
Letter from employer/utility bills.